Please welcome Hannah Madril
Back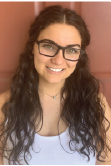 Hannah is excited to be joining the American Martyrs parish staff  as our new Director of Youth Ministry and Confirmation.
She has worked with youth throughout the Los Angeles Archdiocese in opportunities she has had at the LA Religious Education Congress, as the Assistant Director of Music for Los Angeles Youth Day, and as a Certified Catechist teaching at various parishes.
Formerly, Hannah was the Director of Liturgy and Music at St. Jerome Church, where she also took on the role of Youth Ministry Coordinator concurrently. Hannah is a certified VIRTUS Facilitator.
Hannah is looking forward to getting to being a part of the future of the Church at American Martyrs. She is blessed to be able to continue to grow in her journey of faith with a supportive and spirit-led community. She feels privileged to be able to accompany our youth as they find and strengthen their personal relationships with the Lord.
Hannah will be getting married this October to her  Fiancé, Mikey. They enjoy drinking coffee and spending time with their dog, Cinnamon. Hannah's favorite animal is a red panda and her favorite plant is a cactus.