Communion and Anointings on our Campus
Back to Resources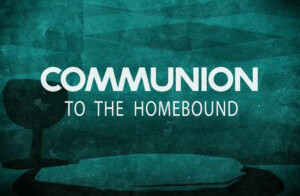 We are committed to ministering to all parishioners who desire Communion and /or Anointing of the Sick, whether it be in a "Homebound" setting or on our campus.
Our priests will minister in a home setting or in a hospital or care center, using sensible health precautions. Extraordinary Ministers of Holy Communion may also distribute Communion to the Homebound in these settings, using sensible health precautions and being fully vaccinated.
We understand there are parishioners who desire to receive the Eucharist but are not yet ready to be in person at Mass, or they cannot attend a public Mass setting, (due to being immune compromised, preparing for a surgical procedure, undergoing a medical treatment, i.e., chemotherapy, radiation, etc) or may not be physically able to come to the church or Plaza for Mass.
We will minister to our 'mobile homebound' parishioners with Communion and/or Anointing of the Sick on our campus.
Sunday, 11:30am-11:50am
after 8:10 am daily Mass
after 12:10pm daily Mass
Please enter our O'Donnell parking lot at 15th Street and drive up to the blue tent.